White Susino Occasion Umbrella
Dees Boutique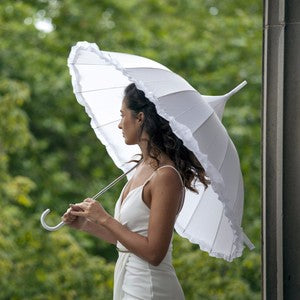 Occasion Umbrella
Oriental white ornate pagoda occasion umbrella with frilled border.  
Keep dry on the big day with our stylish ladies wedding umbrellas.  
 These beautiful bridal umbrellas are perfect for any special occasion.  
 This beautifully manufactured umbrella has everything from a PU covered crook handle to a high quality fabric canopy.
The strong steel frame and fibreglass ribs ensure it is wind resistant. 
- Automatic Open 
- PU Crook Handle 
- High Quality Pongee Fabric 
- Canopy Diameter: 90cm