Clean Heels - Clear Heel Stopper
Clean Heels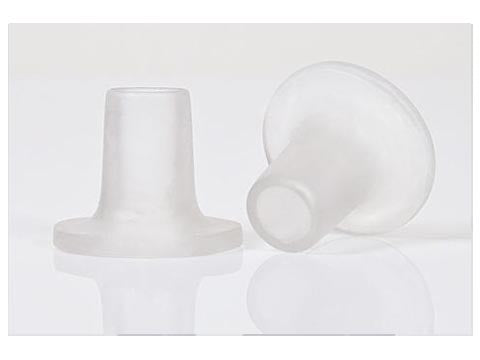 The Original Heel Protector from Clean Heels!
Our plain clear Heel Stoppers are the the ideal heel protector from floors and give elegance in any situation! They are cleverly designed to keep you from sinking into grass and will protect your heels on uneven surfaces. The clear and discreet design will ensure your shoes stay the centre of attention!
Unlike other imitation products, our Heel Stoppers are made from high-quality plastics in the UK that will not stain or discolour your prized heels. Their flexible design fits snuggly around the shoe's heel and offers improved balance and grip on uneven and soft flooring surfaces - keeping you looking your elegant best at all times!
Our heel stoppers are also ideal for hosts looking to protect their wooden floors on yachts, in stately homes or other feature buildings for weddings and functions. Their soft but sturdy materials will stop your guests leaving unsightly stiletto marks on prized wooden flooring!
Clean Heels Heel Stoppers are ideal for:
Weddings

 

Going to the Races

 

Outdoor Sporting Events
Garden Parties
Added Stability
Protecting Wooden Floors
Gravel Paths

 

Cobbled Stones

 

Decking
Sizes and Fitting
Push the heel stopper onto the heel snugly, do not force on.
The soft tubing will grab the heel.
Petite - actual size 0.6cm - stretch to size 0.9cm
Small - actual size 0.9cm - stretch to size 1.2cm
Medium - actual size 1.2cm - stretch to size 1.5cm
and they fit snuggly in your handbag!

 Sustainability
Clean Heels are produced from sustainable, environmentally friendly materials and are manufactured in the UK. 

Our packaging is 100% eco friendly & our heel stoppers are 90% recyclable!
---
More from this collection