Breast Lift Tape : F - H : 3 pairs including 3 pairs of SILK Nipple Covers
ByeBra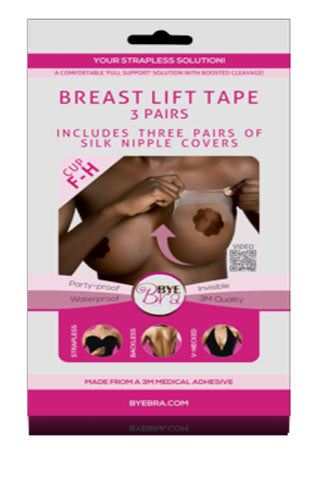 On Sale - Limited Stock

BOOB LIFT STICKERS FOR LARGE BREASTS
If you are wondering where you can find a strapless bra for large cup sizes, then… you have come to the right place!
Bye Bra F+ is an adhesive bra for cups F and larger. We receive many questions about what the Bye Bra looks like, and whether it can hold up an F-cup or larger. The answer is yes – in general, if you are between 16 and 46, the Bye Bra works. However, the Bye Bra F+ also has its limits. From cup F upwards it does depend on the strength of the skin, the sagginess of the breasts and their weight. But for 95% of our clients the Bye Bra F+ works perfectly well.
More importantly than the weight and size of the breasts and the strength of your skin is that you clean the skin before you apply the Bye Bra. Avoid oil, water, sweat or cream before you apply the Bye Bra, because it will not stick to skin that is creamy or oily.
* Excellent Instruction Video in Fittings & Sizes
---
More from this collection